An Interview with Organic Hairdresser, Tabitha James-Kraan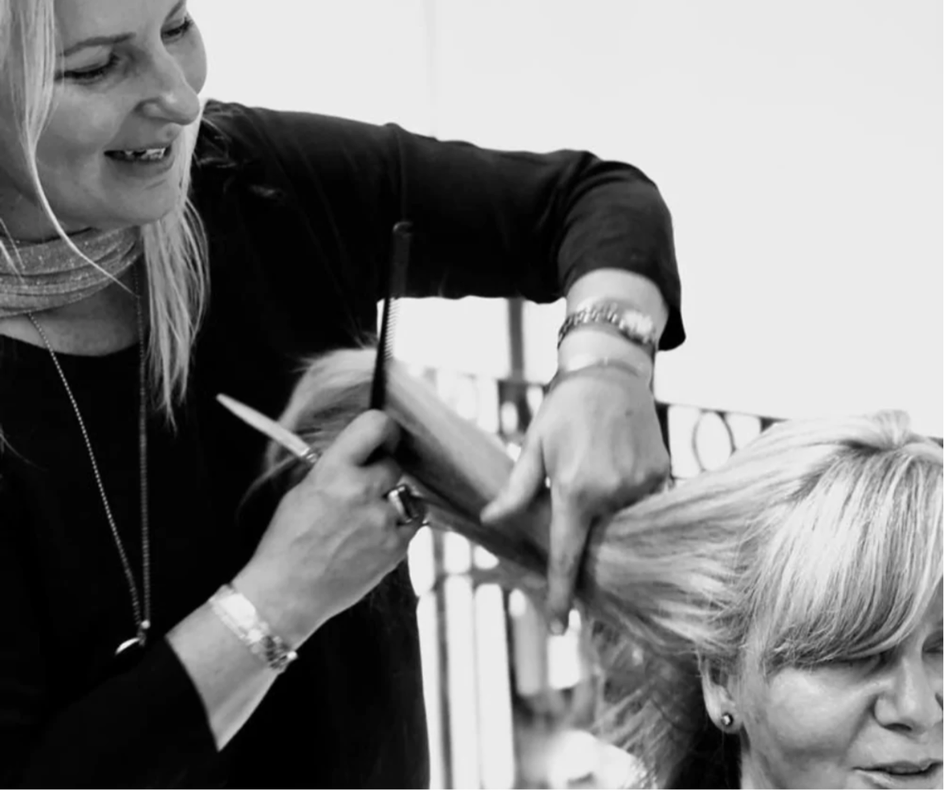 We're thrilled to partner up with Tabitha James Kraan, to share her story and learn more about her range of authentic, organic, professional hair care.

Tell me about yourself, and what prompted you to start an organic product company?

I became an organic hairdresser in 1999, before organic and natural was really in the public thinking. It all started after a conversation with my midwife, I was pregnant with my son at the time, who said I should stop colouring my hair. This is because hair colouring chemicals can get directly into the bloodstream and so to your baby. Up until that point, nowhere in my education had this been mentioned, and I certainly hadn't considered it! Overnight, I stopped colouring my hair on the scalp and changed everything about how my salon operated. It made me consider the impact that I was having on other people by colouring their hair, so I took out all the brands I was stocking and swapped them for products that had more natural ingredients. Whilst the natural brands were okay, they weren't up to the same professional standard of performance that myself and my team were used to working with, and so I decided to try life as an alchemist and concoct something of my own - using pure and natural ingredients that were also organic to get great results.

I know that by creating my range and looking to educate other salons, I'm challenging the industry conventions and way of doing things, but I believe that this has to happen. I'm not going against the tide for the sake of it, I think that there is a better way to look after our hair, bodies and planet! After over 20 years of being a sustainable hairdresser, I'm really at a stage where I want to share and educate other salons to be more eco conscious.

How do you work to make your products sustainably and ethically?


I use pure and natural ingredients, and the range is Soil Association and COSMOS Certified Organic. Since I started my journey to become a more sustainable hairdresser, not much has changed with the chemicals used to formulate hair care - for instance plastics like Polymers and copolymers as well as silicones are still found in shampoos. I don't think that it's healthy for our bodies to absorb plastic, and it's not good for the planet for that plastic to then be washed down the drain! I also believe in the philosophy of washing your hair less, which is what my products give you the ability to do. By balancing and cleansing without stripping the hair of its natural oils, you need to wash your hair less and so use less water than you would if you needed to wash your hair everyday!

Alongside this, our plastic bottle packaging is made from 100% post-consumer plastic, and recyclable. We tested lots of different options with our audience, like recycled aluminum, recycled glass and sugar cane plastic! If anything isn't recyclable with our clients' local councils, we have a takeback scheme to recycle them. We're also working on a refill scheme to reduce packaging waste even further, but we want to make sure we get that one right.

By considering where our products come from, it's clear that the product range needs to be organic. By looking after the soil, not using pesticides or any nasty chemicals, and by promoting biodiversity, we are playing our part in the circle - things come from the soil, and return to the soil.

Some people may worry that natural equals lower performance. How do your products combat that myth?

I experienced this at the beginning of my natural hair care journey, and that's why I wanted to create my own products so that they could be at the high level needed for professional performance and results. I found that working with pure and natural ingredients gave me the results I needed. It actually took 4 different labs to reject my request to work on a new base formulation for shampoo before I found one that would help me to innovate and make change! I wanted to create a shampoo that cleans the hair's natural oils, without stripping them, and I have. To do this, I looked back in time to how hair behaved before we had modern shampoos. I found that people's hair naturally balanced out its oil production - and that became one of my core principles. By balancing hair, it doesn't go frizzy or static, and doesn't go greasy. These were some of the main problems that my salon clients were having! So it isn't about completely stopping using shampoo, but considering what ingredients are being used as I feel that the ingredients in traditional shampoos are causing more issues than they're solving. From stripping natural oils to disrupting our hormones.

My other principles are Correct Cleansing and Moisture Layering. Once we wash our hair less and know how to maintain it, we can wash hair less and still look good! If we are then able to keep our hair moisturised, it becomes a malleable fabric that clients and stylists can form in any way that we like. This allows hair to be whatever we want it to be, and to achieve any look that is desired.

Why Have you chosen to partner up with Green Salon Collective?

I love what Green Salon Collective are doing, I too am fighting for the planet and it's an honour to work with such a savvy organisation that has nailed how to support a salon in being more sustainable. I've been doing lots of things to be sustainable independently, but GSC has given me a one-stop-shop to take care of all my recycling needs in one place.

As a salon owner, there's a lot of pressure and not a lot of time! I feel like things are only sustainable if that includes financial sustainability too, and so post-covid, GSC gives us such a great opportunity to bring in new clients who value sustainability, and give them the perfect option for an eco-friendly hair cut.

I always say love your hair, love you, love your planet, and I think GSC helps us all to align with that!

What is one thing you'd like people to know about having great hair?

The secret to great hair is not to wash it every day!
About Tabitha James-Kraan 
The organic hair pioneer who has been delivering her brand of conscious hairdressing since 1993. Tabitha has pioneered a professional, organic hair care range, that is certified by the Soil Association (Cosmos Organic). Her range is selling around the world. Tabitha is a public speaker, blogger and influencer in the natural beauty sector currently in the Top 10 "Who's who in natural beauty".
In her own words Tabitha is a "Hair Geek" , a passionate naturalist, environmentalist, animal lover, spirited horsewoman and all round organic guru.
After 30 years of working with hair, I know that it performs best when nurtured by nature. With this as my starting point, I set out to deliver the best quality, high performance organic and natural, professional haircare. Aside from our own wellbeing, I always consider the protection of the planet in any products that I create. Cosmetics do the most damage to the environment when they're washed away down our sinks, as harmful chemicals, that don't break down, accumulate in our ecosystem.