Regular price
€219,91 EUR
Regular price
Sale price
€219,91 EUR
Unit price
per
Sale
Sold out
Recycle your salon's hair and metal waste with Green Salon Collective. This starter kit contains everything you need to start your salon recycling journey, when you already have your own bins: bags, marketing stickers, green fee strut and your first returns box.
Our Salon Waste Recycling Program has no hidden fees, contracts, monthly payments and is profitable for many of our members thanks to the Green Fee system. 
The returns box holds approx. 400 clients worth of waste.
Step 1: Buy your starter kit and get ready to recycle!
Step 2: Start charging a small, optional, £1 Green Fee to your clients to cover your recycling costs and promote your sustainable initiatives within the salon.
We recycle your waste hair in over 10 different ways, and any profit made from selling recycled aluminum goes to charity. We provide marketing and social media content to help communicate this with your clients.
Step 3: Collect your hair and metals waste separately, until your returns box is filled to the brim. Once its full you can request a collection here.
Step 4: Order a new returns box and keep the recycling going!
This Starter Kit includes:
1 x Prepaid Returns Box (worth £175)

Window stickers (designs vary).

In-salon mirror stickers (designs vary).

Green Fee Reception Strut.

100% recycled bin bags (x5).

Compostable bin bags for hair (x5).

Listing on our Salon Locator.
You don't have to buy a Returns Box upfront. Instead, you can buy a Starter Kit without a Returns box and just start saving your "green fees" right away. Then you can come back for a returns box when you're ready. Shop the starter kit without a returns box here.
Salon Recycling Returns Box Size:
Returns Box: 90cm high x 40 cm wide x 40 cm deep, comes flat packed.
-
Window sticker: "A proud member of GREEN SALON COLLECTIVE: We recycle the unrecyclable"
Mirror stickers: We recycle the unrecyclable" / "We recycle your hair" / "Your foil = Food" / "Your hair can grow food" / "Zero hair to landfill" / "Zero metals to landfill" / 
How Green Salon Collective Works
Impact

Every Green Salon Collective Returns Box:

Is carbon offset via rewilding projects.
Funds Haircuts 4 Homeless.
Provides much-needed money to feed those in need.

So far, Green Salon Collective has diverted over 100+ tonnes of hairdressing salon waste from landfill. Join us for the next 100!

All profits from recycling metals are donated to Haircuts 4 Homeless // Mossy Earth // Foodcycle
Shipping

Shipping costs £10.95 across the UK & Ireland and is with DPD. You will receive an email once your order has been sent out. It takes 3-5 working days for delivery.
Got a Question?

You can contact us on:

0333 577 6769

hello@greensaloncollective.com
Share
View full details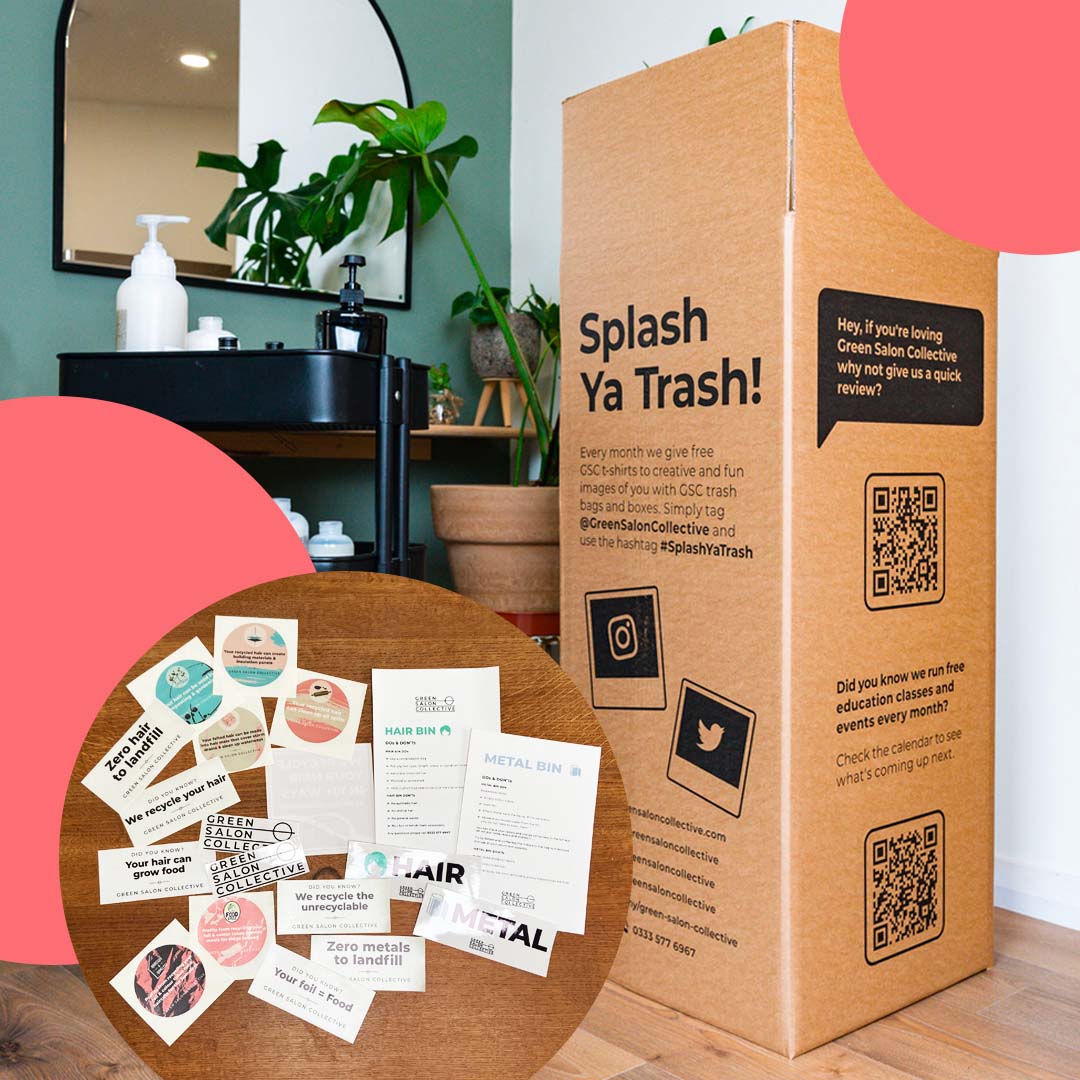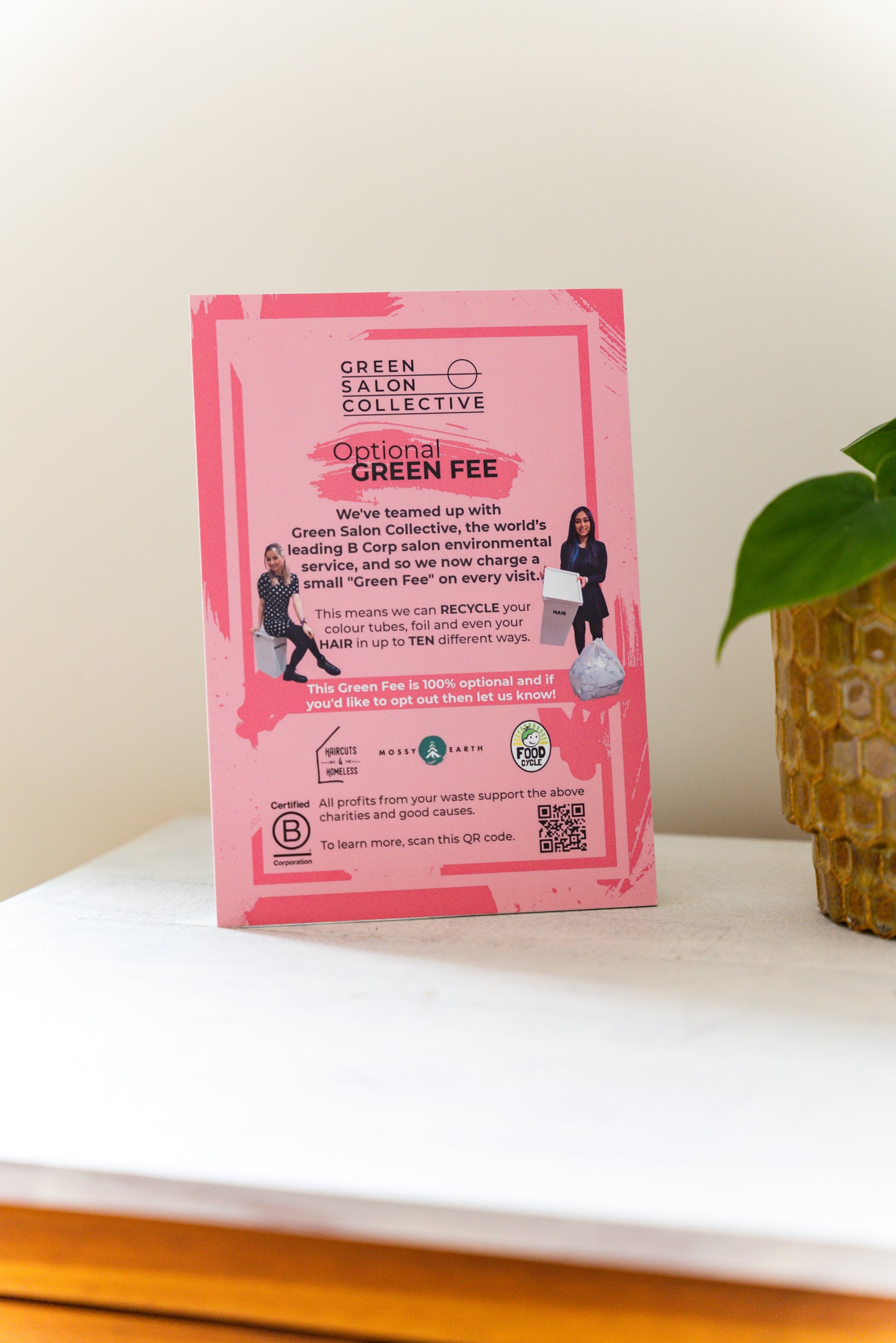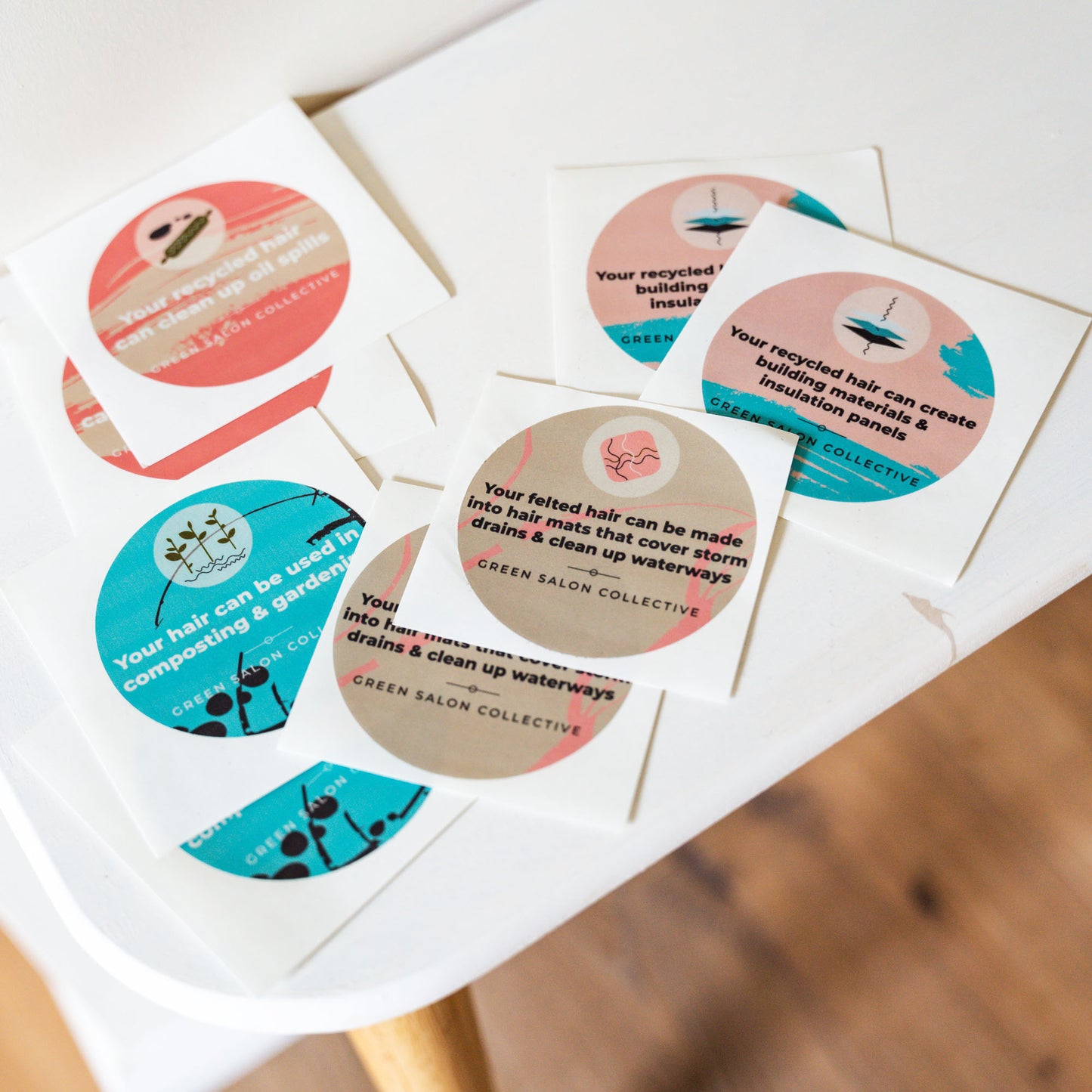 HOW IT WORKS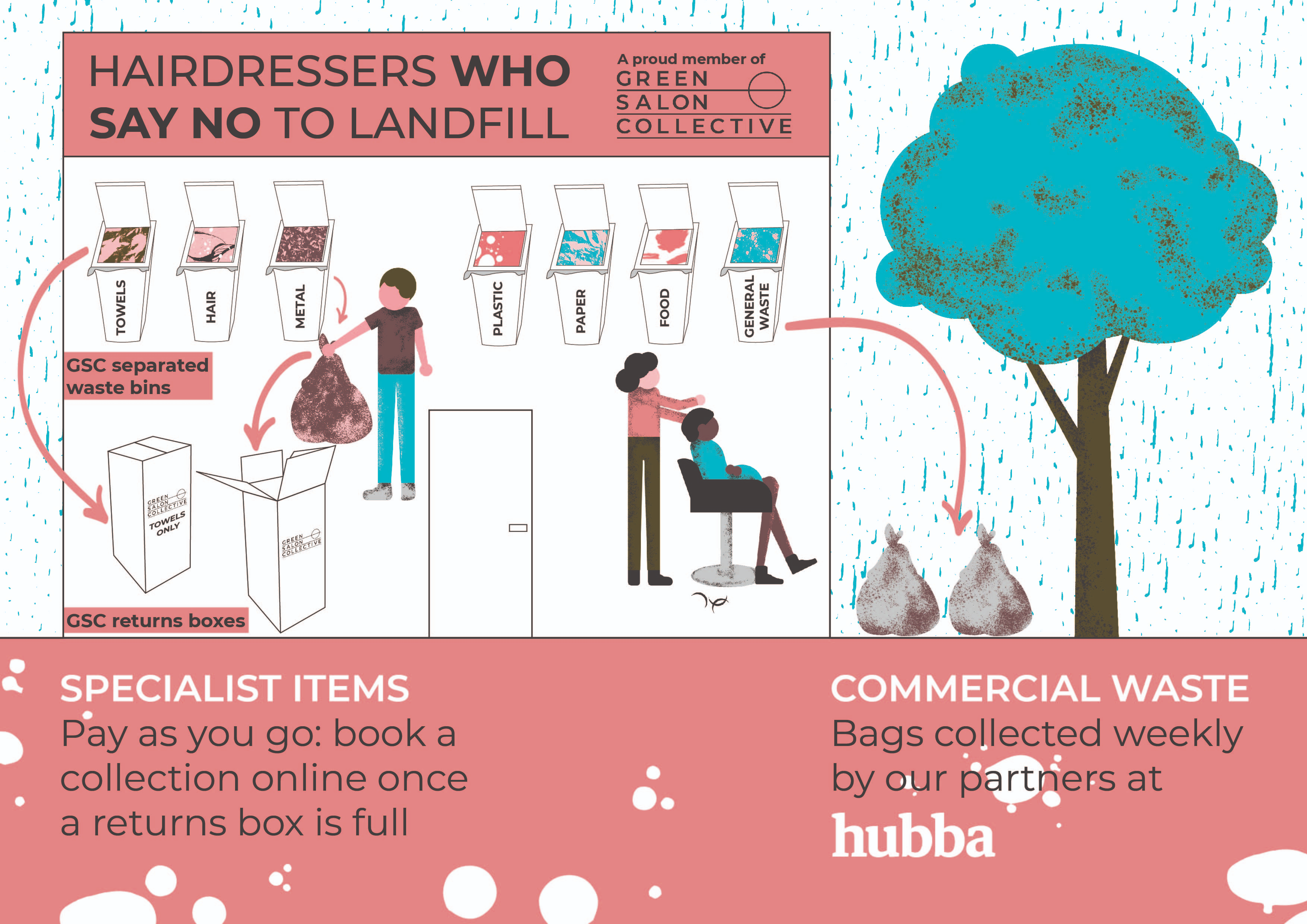 To order more GSC Returns Boxes, CLICK HERE  
To order a General Waste
service

or a Paper and Cardboard service, you can do that through our partners at Hubba UK, CLICK HERE
 STEP 1
BUY STARTER KIT
Choose which waste streams you would like us to dispose of for you and then buy the appropriate starter kit. This will be sent out to you with or without a Return Box, depending on what you can afford. You will be automatically placed on our Member Locator and you can use our many physical and digital marketing material right away. You can now also start charging your customers the Green Fee.
 STEP 2
FILL BINS WITH 'WASTE'
We provide you with designated bins to collect all of your chosen waste streams. Bins are lined with bags and when these fill up, simply place them in your Return Box if you have already purchased one. If you have not, you can purchase the Return Box after you have collected enough Green Fees to cover the cost and simply store your full bags wherever you are able. 
 STEP 3
SCHEDULE COLLECTION
Once your Return Box is full, you can contact us so we can agree on a date to pick it up for you. Purchase of the Return Box comes with this collection service so you will not need to pay any additional money at this point.
 STEP 4
SET OUT RETURN BOX
Every business is different so for your first collection we will make sure we understand exactly where we need to be to pick up your Return Boxes. On the agreed date, simply set out your Return Box and our partner courier service will pick it up!
STEP 1
ORDER
a new Return Box and start filling it up with whatever recycling services you have signed on for. You may need to fill up your Return Box every two weeks or maybe every other day. It depends on the size of your business and how many waste streams you are sending to us!
returns boxes
STEP 2
SCHEDULE
a next-day collection. Your details will be saved in First Mile's system from when you ordered your first collection so from now on it will be super easy. A couple clicks and some tape and we do the rest. You don't even need to set out your Return Box. The First Mile team will collect it from wherever you like!
COLLECTIONS
GET 20% OFF OF YOUR RETURNS BOXES THROUGH OUR 12 MONTH LOYALTY SCHEME
Open to salons, barbershops and freelancers, this loyalty programme is all about helping you and your business to run even more sustainably than you already do. Being a member and charging a green fee means that you should already be in profit or at least cost-neutral. Now you can earn even more with 20% off full price returns boxes!   
learn more & sign up for 20% off your returns boxes
Green Salon Collective is an industry leader in the UK for hair salon recycling, salon waste management, and salon foil recycling. Our salon waste disposal system allows you to become a more sustainable salon and stand out from the crowd. We believe that no salon waste should be going to landfill, which is why we have options for every single salon waste stream to be disposed of responsibly, from the 10 different ways that we offer for hair recycling, to our general waste to energy solution for hair salon chemical waste. Through Green Salon Collective, you can get your hairdressing salon waste bins, marketing materials and the peace of mind that you're recycling your salon waste with a trusted, B-Corp certified hairdressing waste recycling company. If you'd like to become a sustainable salon and move towards a more eco-friendly future within the hair and beauty industry, get in touch today.