Partnership between Green Salon Collective and Easydry: Creating Sustainable Salons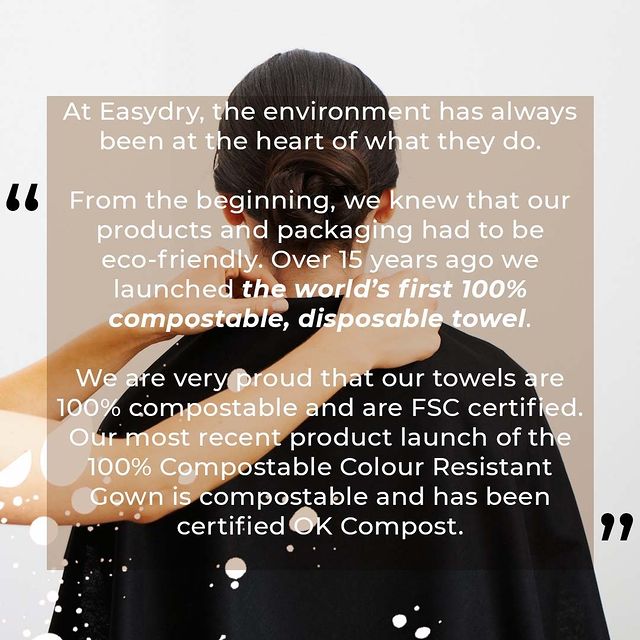 We believe that every salon waste product should have a responsible end-of-life solution, which is why we offer a towel composting service for those salons who use compostable single-use towels. 
One of the brands we accept through that service is Easydry, who are a certified B Corporation (like us!) and have several composting certifications, so they are 100% biodegradable. We can also compost their capes, as long as all the products are uncontaminated (without chemicals). 
Our Hair Salon Towel Research Report shows that the most sustainable option when using salon towels is to use a certified compostable towel, using one towel per client and then composting the towel afterwards. You could also add some extra steps of using the towel as cleaning rags! 
Using Easydry towels saves:
The Environment The cultivation of Easydry's raw materials uses approximately 40 times less water than the cultivation of cotton. Plus...

60,000 litres of water annually is wasted by the typical salon on laundry

The average laundry load containing synthetic and polyester fabrics can release up to 700,000 individual microplastics and 50 litres of chemically contaminated water into our rivers and oceans

Easydry towels are 100% biodegradable and fully decompose within 12 weeks, eliminating any negative effect to the environment. This is compared to cotton towels which are often mixed with synthetics, polyester and other plastics that simply do not break down for thousands of years.

Money: An Easydry towel costs £0.28 while laundering a cotton towel costs £0.50, saving you £0.22. You can now eliminate all the costs of cotton towel laundry – labour costs, electricity bills and all the hidden costs.

Time: On average, a 4-stylist salon spends 3 hours per day on laundry.
Easydry Promo Code
We are proud to announce that GSC has partnered up with Easydry to help salons become more sustainable through their towel usage. In order to celebrate we would love to offer all GSC members a 10% discount off their first Easydry order. Here's how to make the most of this incredible offer:
Visit www.easydry.com.
Add the products you wish to purchase to your shopping cart.
Proceed to checkout. Enter GSC10 in the "coupon code" section and click "Apply".