New research suggests hairdressers can influence a more sustainable haircare routine in clients - Our Mirror Talkers Study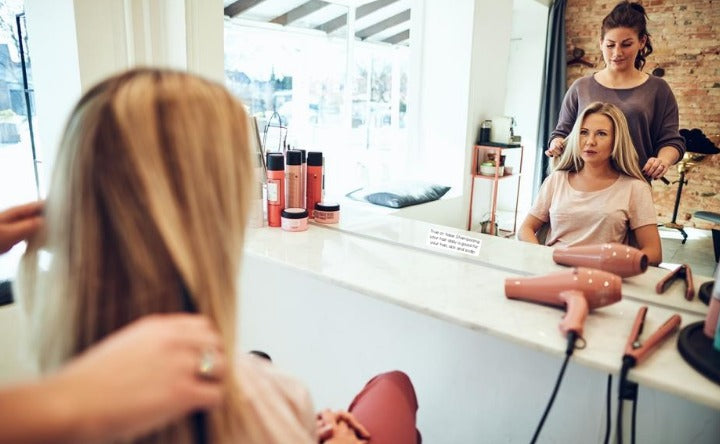 New research suggests hairdressers can influence a more sustainable haircare routine in clients
Did you know?
25% of domestic energy use is attributed to hot water 
Did you know?
90% of the carbon footprint of a bottle of shampoo is the hot water used when washing hair
__________________
The results of a 12-month pilot study exploring ways to reduce carbon and water footprints related to haircare routines have been shared at an event in London. Thanks to all of the participants, GSC members and brand partners that came to say hello and learn more!
 'Mirror Talkers' is the brainchild of Green Salon Collective and Denise Baden, Professor of Sustainable Business University of Southampton, and looks at the effectiveness of displaying small messages on salon mirrors (hence, mirror talkers), to engage clients in conversations around sustainable haircare.
30 salons were involved in the year-long study, with each provided a selection of thought-provoking 'Eco Tips' aimed at getting clients talking. These ranged from 'Running hot water is the most expensive and energy-intensive activity we do in our homes' to 'Do you always need to use conditioner?'
Each Eco Tip had a linked QR code, leading to the training required to navigate those conversations, as well as a separate survey for both client and hairdresser to gauge their feedback on the process. The survey also invited clients and hairdressers to participate in one-to-one interviews to provide further feedback.
The aim of the study was threefold:
To reduce individual energy and water footprints through 12 research-based 'Eco Tips', from environmentally-friendly haircare practices and products, to the corresponding water and energy savings, plus wellbeing benefits.

To increase awareness of the water and energy footprints related to daily and weekly haircare routines

To empower hairdressers to confidently navigate conversations around sustainable haircare practices in order to improve the integrity of the industry.
The results of the study were shared at an event hosted by Green Salon Collective at The Hunter Collective in Farringdon, with participants from the research invited along to witness the findings. 
Survey findings
60% of hairdressers and salon owners said they felt 'confident' and 'fine' about having the 'Mirror Talkers' 

65% of hairdressers and salon owners believed the conversations had had a positive effect on the client's haircare routine – which was actually an underestimate since…

73% of clients said it was VERY LIKELY or LIKELY that they would change their haircare routines

Nearly ALL clients seemed to enjoy the conversations and/or learn something from them
Interview findings
Interview feedback mirrored survey feedback and was largely positive

The conversations were described as 'easy', 'enjoyable', 'comfortable' and 'productive'

Mirror Talkers were found to be more effective when 
The topic is relevant (e.g energy cost/waste)

They are linked to personal gain (e.g a product's positive impact on hair/skin, or a product saving time/money)
Mirror

Talkers must be supported by good, up-to-date supporting material

Training material should be digestible and 'bite-sized'

M

irror Talkers

training can make hairdressers

more confident

Mirror Talkers can help boost product sales (e.g. shampoo bars, leave-in conditioner, dry shampoo)

Mirror talkers can support more sustainable use of water and energy in salons
'Green Salon Collective are excited to have spearheaded such a ground-breaking and positive piece of research' says Steph Vanhalder, Head of Research & Development at Green Salon Collective. 'We have long known that hairdressers have the potential to influence and inform clients on their sustainable practices and we hope that these new findings will encourage more salons and salon owners to introduce 'Mirror Talkers' into their working environments.'
The evening rounded off by highlighting the potential of Mirror Talkers to 'empower' hairdressers with the knowledge to positively influence their clients' impact on the world.' There is also scope for meaningful change, with Mirror Talkers influencing water and energy consumption patterns in a significant way, as well as boosting the reputation of the hair and beauty industry and giving pride to those working in the profession. 
Following the study, new training videos are being planned to boost both the effectiveness and awareness of Mirror Talkers and QR content will be made freely available for training purposes.
Full results from the study can be found on our R&D Reports page, here. 
Written by LWPR