The Full Circle - Green Salon Collective x Foil Me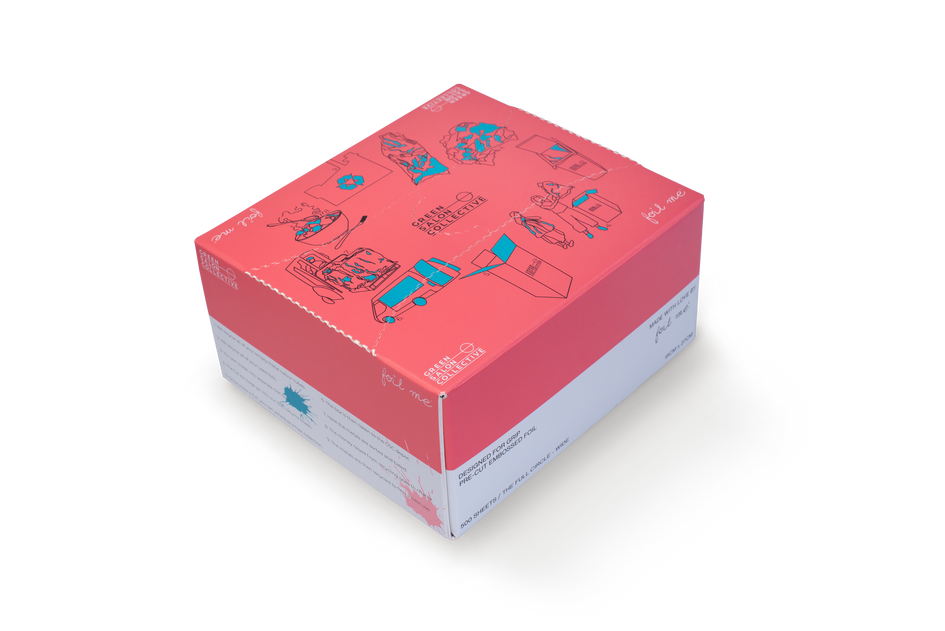 Green Salon Collective x Foil Me launches exclusive foil collaboration
 AVAILABLE TO PRE-ORDER NOW
Green Salon Collective – the hairdressing industry's leading authority on sustainability – have partnered with Foil Me – world-renowned hairdressing tool innovators - to create a bespoke, eco-conscious colour foil.
The Full Circle – a premium pre-cut foil, embossed in Foil Me's signature embossing - is a culmination of months of planning and design, resulting in a product that not only looks beautiful, but also increases awareness of recycling solutions for salon waste. Additionally, both GSC and Foil Me have pledged to donate a meal per box of foil via FoodCycle, a charity that creates nourishing meals from surplus food for those in need. If that wasn't enough the foils transport is fully carbon offset. 
Foil Me was created to give hair artists an easier, more luxurious working experience, offering exclusively designed foils that combine the wow factor with high quality and meticulous detail.
A truly unique collaboration, the design incorporates unique and striking line Illustrations by GSC's Natalie Hapeshi and graphic design prowess by Foil Me's Chelsea Winter in composing the layout, colour selection and design of both of the foil sheets and box. Each eye-catching foil in watermelon pink and cyan visually depicts the nine simple steps that GSC uses to recycle all salon metals, with a call to action to #SplashYaTrash.
The matching box explains these steps in more details, also revealing that the product is made from a percentage of recycled aluminium foil and is 100% recyclable. Additionally, information is provided on the carbon footprint of the product, with GSC vowing to offset this through deforestation projects.
Green Salon Collective is the official sustainability partner of some of hairdressing's biggest brands and works to find circular solutions for all salon waste. A certified B Corporation, GSC hopes this latest partnership will help increase awareness of how salons, stylists and clients can adapt to be more accountable, both socially and environmentally.
"When GSC members asked us to produce a foil, our first thought was to approach Foil Me; I'm a long term admirer of the brand. Foil Me is an ethical brand with high-quality products, close attention to detail, and strong ethics that run through the company, from the production of products to how it's sold. Emily, the founder of Foil Me and her team have been a pleasure to work with, and we look forward to many more collaborations". Fry Taylor Green Salon Collective founder 
'By recycling all used salon foil and colour tubes, no matter how messy and sticky, we can save energy and raw materials while reducing emissions and demand on landfill sites. We then give all profits from recycling metals to charities that give back to our local communities. One that we love and support is FoodCycle, where volunteers turn surplus food into nourishing meals for those facing hunger and loneliness. Our support is more than feeding people. Being a part of the FoodCycle family is about bringing people together, sparking human connections and helping to create a sense of belonging.'
"Working with Fry and the Green Salon Collective (GSC) team was a highlight of being the co-owner and creative director of Foil Me so far! It's important that we work with people who are aligned in our values and GSC is a wonderful company that, like us, really cares about, in fact GSC have just been accredited a B-Corp Company which is not easy to achieve! We love that this foil helps feed people through the 1.50 GBP we are both donating to FoodCycle and that the box outlines the steps that occur (once the actual foil is used) to recycle the foil and use the proceeds to buy meals. It's really important that as a company, we give back and provide enjoyment to the hairdressing industry, and by creating The Full Circle we are doing exactly that." – Emily Ciardiello, CEO and Creative Director of Foil Me.
Green Salon Collective x Foil Me The Full Circle is available for pre-order from June 6th. 
A £1.50 donation per box AND generated from profits made from the recycling of used salon metals will be made to FoodCycle.