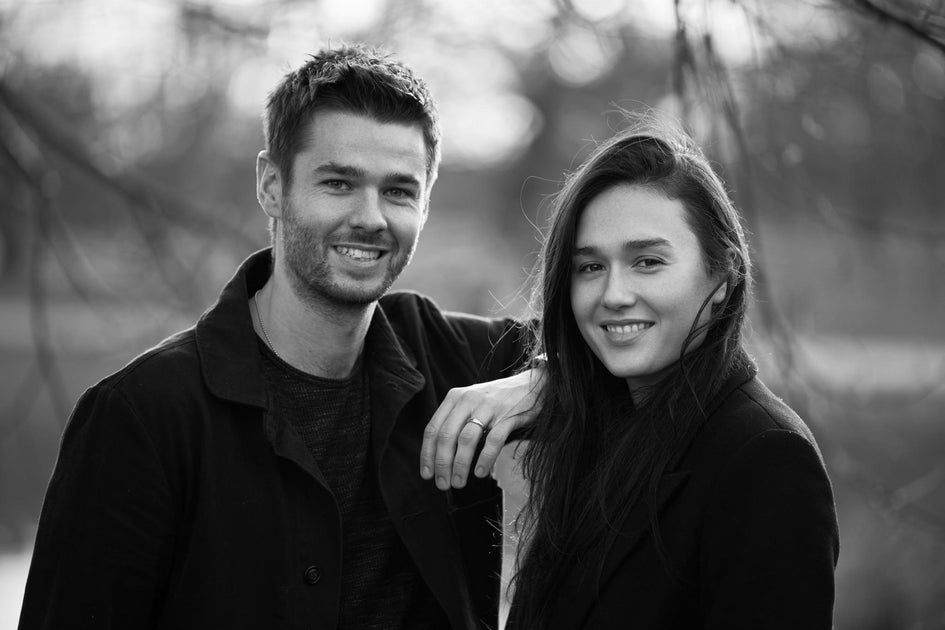 Who are you both? Tell us a little on your background?
Hi there, my name is Laura Tudor I am the Founder of CENTRED. I have come from a fashion and design background having studied at Central Saint Martins and the London College of Fashion. After graduating I ran my design label for 7 years with a studio space in Mayfair, Central London. Over time priorities changed and I became very aware of how unsustainable the fashion industry was, I'm sure many of you may feel the same but as the topic of conversation around sustainability grew and grew I felt it was impossible to ignore, I lost my passion for the industry and after working years of 14 hour days I experienced burnout and eventually hair loss. This was a massive wake up call for me, after taking some time out I realised I had not been putting myself first, choosing work over my own health and I felt a weight lifted. This allowed me to approach whatever I was going to next with a completely different approach. Start with the self and then go from there. I began to shift my attention to self-care and wellbeing with a focus on sustainability as something that has become a huge personal passion of mine.
Hey Guys, I am Kieran Tudor, I have been in the hairdressing industry for just over 16 years. Throughout my career, I have had some incredible experiences. Having won British Hairdressing Newcomer of the Year in 2012 I was fortunate enough to go on to travel to some amazing places such as New York, Dubai and Las Vegas as Artistic Director for D&J Ambrose, working alongside Darren Ambrose and the Art Team to present shows and educational seminars. Since 2016 I have been based at the Josh Wood Atelier in London where I see my clients 2 days a week. This gives me the creative freedom to balance salon work and session styling along with my role as UK & EU Brand Ambassador for Remington and Creative Director for CENTRED.
Why did you start CENTRED? The initial idea for CENTRED came about completely organically and was one of those light bulb moments. In 2017 Laura experienced quite severe hair loss. It came on suddenly around 6 months after closing down her design business which had been a particularly stressful time. At that point, we had both been making lifestyle adjustments by being more conscious in what we were consuming and the number of chemicals we exposed our bodies to buy our household and beauty products. After a visit to the GP to rule out other causes, we concluded that stress and a few nutrient deficiencies were what was causing Laura's hair loss so we began to look at ways to treat and recover her hair naturally. We realised that so many of the products out there aimed at hair loss were not helping to treat the root cause but rather masking the symptoms and further to that we were disappointed by the lack of natural products with sustainable packaging. The idea for CENTRED was born. High performing, natural hair care, scalp care and nutrition in sustainable packaging with a focus on self-care and wellbeing for improving hair health.
What is your vision with CENTRED and where do you see it going? Now we have built a steady following of customers who are testifying about the results they are seeing in their hair we plan to grow into hair salons with experts being able to offer their clients natural and sustainable hair health solutions for hair recovery. The pandemic has no doubt caused untold stress for so many people so we believe our products can really help people who may be going through a similar situation that Laura went through. We are excited about branching into education and working with salons to create client services like scalp treatments and ways of tracking hair health progress. We also have several new products in the pipeline including a very exciting Zero waste product along with two new additions to our nutrition line for brain health and immune system support. We have big plans for in-salon refill stations and already offer 1-litre backwash sizes of our Daily Calma Shampoo and Conditioner in 100% Recycled Bottles. Our long term goal is to become a Certified B Company - "Certified B Corporations are businesses that meet the highest standards of verified social and environmental performance, public transparency, and legal accountability to balance profit and purpose. B Corps are accelerating a global culture shift to redefine success in business and build a more inclusive and sustainable economy".
What are your current sustainability commitments? Sustainability is embedded deep within our brand DNA and is a huge passion for us. I took a grassroots approach when I was designing CENTRED, I visited several recycling plants to really understand the lifecycle of a product and its packaging during the early development of our brand and then paid careful attention to each detail from the materials used to the sourcing of our ingredients and suppliers. Our goal was to create the most sustainable range possible without ever compromising on the performance and design of our products.
Have you seen a shift in our industry moving towards more sustainable or "green" type brands? Yes the desire is definitely there and there are some amazing brands born from this movement from places like Italy, Scandinavia and Australia so we are hoping we can become recognised alongside these new waves of ethical brands as a UK born and Manufactured company, fulfilling the need for high performing, natural products with even lower carbon emissions. We love the work that Green Salon Collective is doing and feel honoured to be part of the collaborative effort to make this amazing industry green!
Tell me about where your products are made, the packaging and transport of your products and why you use plastic? It is really important to us that all of our products and packaging are manufactured here in the UK in order to ensure the highest quality standards and performance as well as keeping our environmental impact as low as possible with very low carbon emissions to our UK salon stockists and retailers. In fact, our manufacturer is based just over an hour outside of London which has been extremely helpful during the formulating and testing phase of our range right through to our stock distribution and transit options so we have as low a carbon footprint as possible.
When Laura first started designing our products packaging her starting point was looking for biodegradable plastic alternatives but from her research and through actually visiting recycling plants she quickly realised that at this point in time these materials were not the best option. Until infrastructure in the UK develops in order to be able to process these new kinds of packaging such as bioplastics, most materials will end up in landfill or being incinerated. As consumers ourselves we all know how confusing it can be to know exactly what is and what isn't and as recycling capabilities change from council to council this complicates things even further.
At the moment the majority of brands rely heavily on the customer to be the responsible party but in our opinion, we think it is the brands' responsibility to make it as easy as possible for the end consumer to be as sustainable as possible. Laura weighed up every option from glass to aluminium, 'bio' plastics and even ocean plastic and after extensive research and deliberation she found the best option for us at the time was to use 100% Post-Consumer Recycled (R)PET plastic which is made from mostly recycled water bottles which is why our bottles have a slight grey hue. We really wanted to highlight that and embrace it as RPET is also 100% recyclable and universally recycled making it as easy as possible for consumers and their councils to recycle again and again helping to close the recycling loop. We even made the decision to avoid using labels on our bottles, opting instead to print directly on to the bottles to avoid the unnecessary waste. Every part of our packaging has been carefully chosen.
Plastic is (dare I say it) a fantastic material when used responsibly. What is not fantastic is the way the world has used plastic for too long with a throw away culture that has created the environmental crisis. This is why we feel so strongly about empowering the consumer to do the right thing and recycle but we have to make it as easy as possible in order to create long term change. Our biggest piece of advice to anyone who is interested in sustainability is to go and visit their local recycling plant, it is a real eye-opener and we believe that in becoming aware of where our waste goes and the problems with waste management more people will try to do what they can to help.
Do you support any charities? CENTRED is all about balance, giving back is really important to us and we wanted to create a business that could generate funds for good causes as it grows. We proudly donate 10% of our net profits to the Charity 'Friends Of The Earth" through the work for good scheme. We believe that by setting out this way as a small business we can help to shift the tide and inspire others to change for a positive future together.
To learn more about CENTRED
click here
.