Ashleigh Hodges - Earth Day Night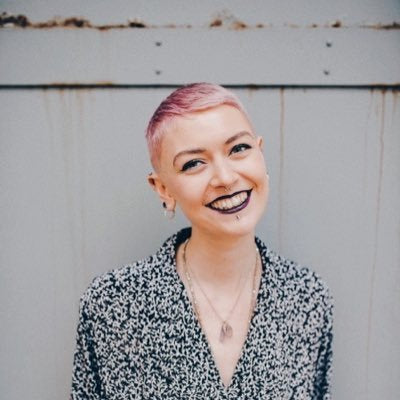 Ashleigh Hodges, co-director of Hairdotcom Art Team, speaking at our Earth Day Night event 2021
"You matter. You can have an impact. Be the change you want to see in the world."
These words adorn Ashleigh's workspace even as she gives a talk on the evening of Green Salon Collective's Earth Day Night event.
Ashleigh's journey of sustainability started when she was young. At the age of 13 she signed up to Greenpeace and through them she learned about things like saving the whales and pollution. She knew at a young age that she wanted to make a positive impact on the world around her.
When she became a hairdresser and especially when her career really took off, she admits that she forgot about sustainability a bit. It played less of a central role in her life even though she set small goals for herself like not buying any new fashion for a year. Unlimited vintage only!  She also participated in peaceful protests with Extinction Rebellion.
It was only until Trump and Boris got in power that she thought, right, that's it then! She took her dark day reflecting on current politics and rather than feeling let down or discouraged -- or as she said, rather than running away to the countryside or even a commune in Costa Rica --  she instead created her 12 Months of Sustainability. 
This was about focusing on one thing each month for a year and making it sustainable in your life, which for her was in the city. For each step, it was important to first learn more about 'the issue' and how we can make changes and then just start implementing that change. She said it's like building new habits. 
Off the back end of 12 Months of Sustainability she launched 12 Steps to Sustainability, an online course looking at 12 steps people can take to become more sustainable in their daily lives. The course received praise from those that participated and, back by popular demand, she has just launched another.
Ashleigh says that breaking it down into small steps makes it more manageable and less scary. It's about leaving out judgments and doing it for you, authentically. 
3 of the 12 steps
Food waste. Food waste going to landfill is really toxic and bad for the environment. A lot about this step is about composting. 
"Roughly 40% of the food we bring homes goes to landfill. It decomposes to produce methane, a GHG, with more than 20 times the global warming capacity than co2. Food scraps in landfill are also a potential source of organic leachates (harmful substances) that can contaminate surface and groundwater."
Try to buy what you will actually consume. If you do have scraps then you can grow things from them. For example, you can plant the seeds inside the tomatoes you eat to grow new tomato plants. And, of course, look into composting. She also suggests for people without space enough for a big compost heap to look into wormeries which can fit even in your apartment building.
Another gem is the Share Waste app which you can use if you have food scraps (where to find local composting sites) or if you have a composting site (get people to bring you scraps).  
Food and beverage within the salon. Here Ashleigh stressed the importance of having plant based food options so as to be totally inclusive. And also to make sure you source as much as you can that is sustainable, ethical, local and plastic free.
She warned that tea bags often have plastic so you may choose to serve your clients loose leaf tea in strainers. She also suggests sourcing things like sweets from your local baker which is probably be wrapped in paper rather than plastic. That paper can then be torn up and put in with your compost or wormery. 
Banking. A lesser known topic in sustainability is around banking which includes financing and pensions. 
"The world's largest banks have funnelled more than £2.2tr into fossil fuels since the Paris Agreement. Barclays has been the top European financier of fossil fuels in the most recent years. The London based bank was the largest financier of Arctic oil and gas in 2019. In just three years from 2016 to 2019, Barclays provided $85b in funding fossil fuel companies. This included companies involved in coal, fracking, tar sands, and Arctic oil projects. Of this, $24b was for companies heavily involved in expanding the extraction and use of fossil fuels -- which is the exact opposite of what should be happening."
Ashleigh admits that she realised she was doing all these small things, for example keeping her food scraps while she was out on the job so she could bring them home to her wormery. But then she noticed that all her savings and day to day banking money was being funneled into fossil fuels and a future that she didn't believe in.
What did she do? Slowly but surely started shifting all her banking and pensions to banks and funds that better reflected her own ethics. 
Ashleigh closes with this powerful quote from Greenpeace:
The earth is what we all have in common.
- - -
Find Ashleigh via her social media handle: @ashleigh_hodges_hair