Creating swatches from Yarn made from human hair and wool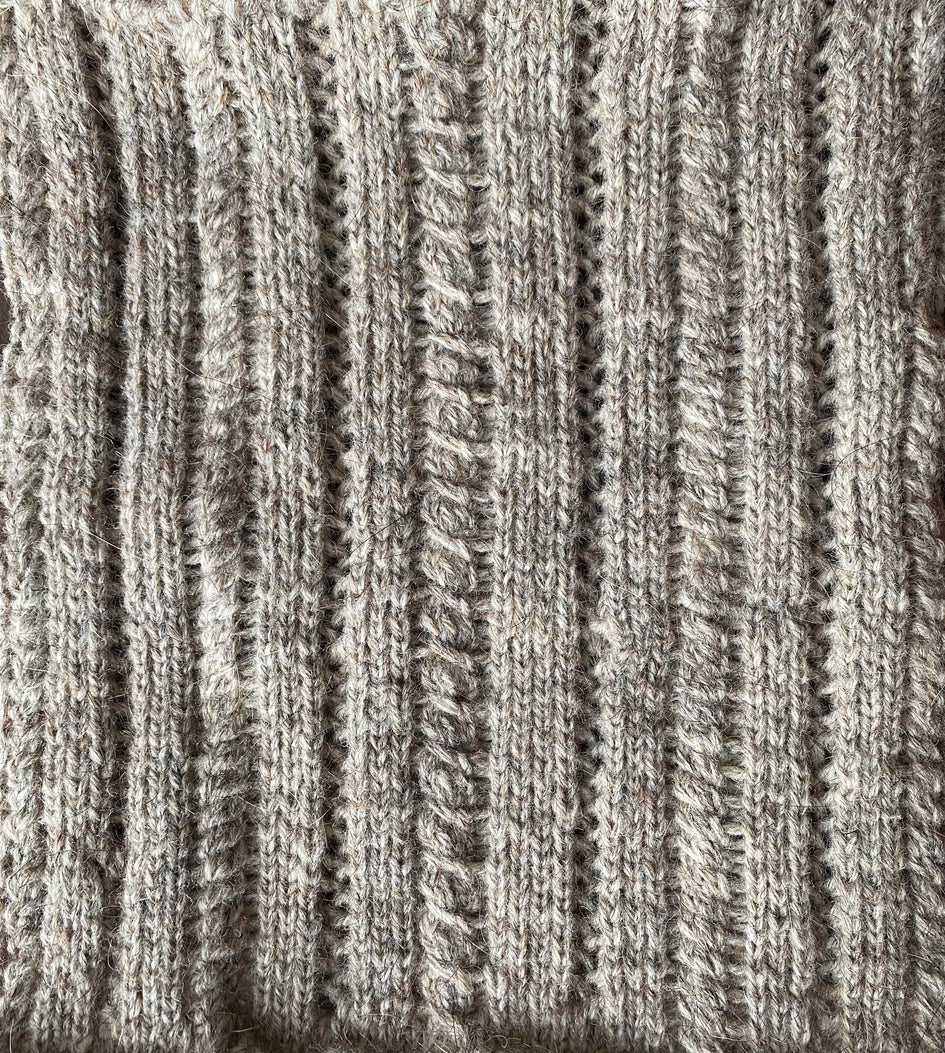 One of Green Salon Collective's research projects was inspired by our work with designer Sanne Visser to make hair rope. Thinking about the potential for hair as a wool or rope, we collaborated with the Natural Fibre Co, a wool mill based in Cornwall, to create a yarn from waste salon hair and wool. So far, we have created yarns that are 40% human hair and 60% wool that has been spun into a chunky, rope-like thickness. The hair used is collected from Green Salon Collective member salons, and all the wool sourced for the project is undervalued and destined for compositing - that at the same time meets the highest ethical standards. Here's a picture of our gardening wool twine...
The yarn that we collaborated to create is soft, durable and aesthetically pleasing; however the technique is still being trialled, and we're currently looking at a plastic-free gardening twine made from hair and wool. To trial our new yarn, we collaborated with Catherine Jones, a knitted textile design graduate and Catherine has created a swatch, as well as sharing about her experience working with the yarn. Keep reading to read Catherine's guest post…
"Focusing on womenswear, my work is normally delicate and refined, making use of finer gauge machinery alongside traditional crafts such as crochet.
Being in the textile industry, I am aware of the waste produced within fashion and textiles, yet there do not seem to be many eco-alternatives that actually seem to be environmentally friendly rather than just greenwashing. The saying reduce, reuse, recycle runs in order of importance.
In order to reduce environmental impact, it is most important to reduce waste, then reuse existing waste, and recycling what remains. Green Salon Collective (GSC) reuse waste products from hair salons, from using hair to prevent the spread of oil after an oil spill to generating energy from burning chemical waste. While there cannot be a reduction in volume of hair nor wool waste (as people need to have their hair cut and sheep need to be sheared), the next step is to reuse the existing waste.
When I heard that GSC were collaborating with the Natural Fibre Company (NFC) in Cornwall to produce an environmentally friendly yarn with wool fibres and discarded hair I was intrigued, as this seems like a genuine way to reduce waste without greenwashing. While they mostly work with wool, they undertake the entire process of turning raw fleece into finished yarn under one roof. This system allows for a smaller carbon footprint by removing the need to transport the raw product through each stage of processing.
Hair is actually a perfect fibre to use for yarn, as it has tensile strength (it's a strong fabric that can stretch), good thermal regulation, and is able to absorb oil. Plus, it not only naturally occurs, but is currently being thrown away at a rate of approximately 6.5 million kilograms every year in the UK.
These properties, in combination with British wool make for a versatile, desirable yarn, that is genuinely environmentally sound and reduces waste from hairdressing salons without the use of greenwashing."
About Catherine:
Catherine Jones is a graduate from Winchester School of Art, University of Southampton, with a degree in textile design, specialising in knitwear for women's fashion. Catherine is interested in unique and interesting yarns, having worked with a wide variety of fibres and textures.